Oftalmogarden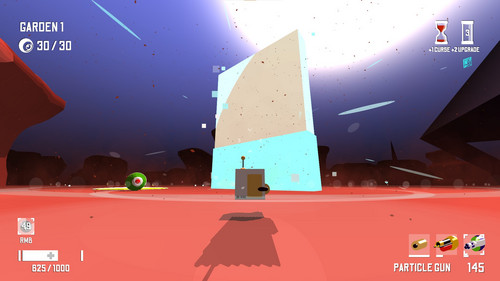 This week was a bit slow and I ended up mostly doing some maintenance on the project as well as some bug fixes, balance changes, and visual improvements. But I do have some cool new content for you.

My favourite of this patch, even if it doesn't have much effect on the gameplay, is the improved Portal. This element of the game is very old and hasn't changed much since the earliest Oftalmogarden prototypes, and it's starting to show. I did improve it somewhat recently by adding particle effects, but it still felt unresponsive and somewhat confusing because it didn't seem to do anything when you touched it and the "XP distribution" animation was unclear and anticlimactic at best. Players would often think The Portal wasn't working properly, and it just felt like this big bright rectangle with no hitbox. I think it'll feel much better now, go check it out and let me know.
As for content, this update brings you a brand new powerful gadget, the Portative Turret. It's basically a mounted minigun you can place wherever you like, and should help clear a populated area pretty nicely.
The second bit of content is what might be the strongest upgrade yet, Dubious Math. In fact, it's so powerful that it's also the first upgrade to have a clear downside! It makes you shoot three projectiles instead of one with any weapon, but doubles your ammo consumption which can put you in tricky situations, but the damage and crowd control potential is absolutely bonkers in my opinion. Have fun with it!
Full patch notes below as always.
Gadgets
[NEW] Portative Turret

Place a Turret nearby.
The Turret shoots lasers in a spread pattern at a high fire rate, comparable to the Minigun.
Upgrades
[NEW] Dubious Math

Triple shot for double ammo cost.

Cyber Necromancy: Now limited to 8 simultaneous drones per stack.
Presentation
The Portal

Added visual and audio effects when touching The Portal.
Added a clearer animation when The Portal distributes XP.
The Portal now plays a sound effect when present on the map.
Other
The Portal now grants a correct amount of XP.
Visual effects on the player are now hidden when the camera is too close.
Emergency Shield value is now correctly shown on Health UI.
Files
oftalmogarden-win.zip
44 MB
Version 0.3.3
Mar 19, 2021