Oftalmogarden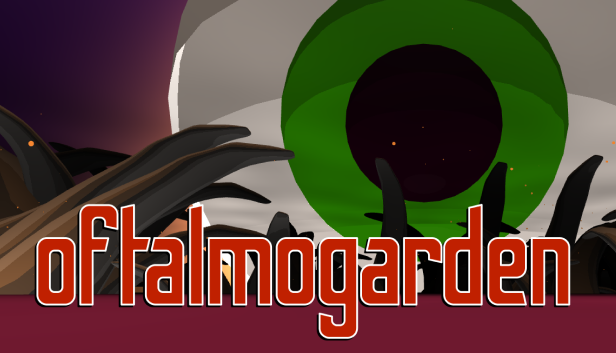 This update adds a fourth garden and shakes up the game's formula a bit. It also marks the release of Oftalmogarden on Steam early access and adds a few mechanics that I felt were missing from the game.

First of all, The End. You can now end runs in other ways than dying, well one other way for now. If you manage to survive enough gardens and defeat two bosses, you'll get a chance to finish your run and get an XP bonus for unlocks.
What are unlocks though? Unlocks are weapons, gadgets, and of course upgrades and curses. Oftalmogarden is starting to have a lot of content, and that can be overwhelming for new players to have so much stuff to keep in mind while playing, so from this version on a fresh save will only have a handful of unlocks already unlocked, and you'll have to finish runs (either by dying or reaching "The End") with enough XP to unlock new stuff.
As mentioned at the start, this patch also adds a fourth garden, Borealis Sporedrome. It also changes the sequencing of gardens and boss fights, you will now be playing two gardens in the same environment before switching to the next one and boss fights now occur after four gardens instead of three.
Despite the Steam release I still want to keep working on the game, a lot of things in the game need polishing and there is space to add more content, especially enemies and boss fights. I don't have clear plans just yet as I also need to focus on communication and the financial side of things. Which leads me to another big change: the minimum price to download Oftalmogarden is now five dollars.

Gardens
[NEW] Borealis Sporedrome
[NEW] "The End"

Reaching this place allows you to end your run with dignity. You also get bonus XP for unlocks.
Bosses
Crylid

Increased health of Homing Tears.
Curses
[NEW] I See You
Bleep On The Radar

Increased chance of appearing after clearing a certain amount of gardens.
Weapons
Noise Gun

Increased damage to 5 per shot (from 4).
Reduced bullet hitbox by about 10%.
Reduced knockback by about 20%

Grenade Launcher
Unlocks
Added unlocks.
Vastly reduced the amount of weapons, gadgets, upgrades and curses unlocked by default.
New weapons, gadgets, upgrades and curses are now unlocked by finishing runs, either by dying or reaching "The End".
The more XP you gather during a run, the more stuff you unlock.
A list of unlocks has been added to the main menu.
Fixes
Fixed an issue where burn particles weren't removed properly when Big Tangerine dies.
DETH will no longer try to kill dead players.
Vastly improved camera clipping through the floor or structures.
Other
Still Not Dead now plays an animation on use.
Garden names are now shown at the start of each garden.
Sound effects are now muted when the game is paused.

Files
oftalmogarden-win.zip
44 MB
Version 0.4.0
Jan 21, 2022